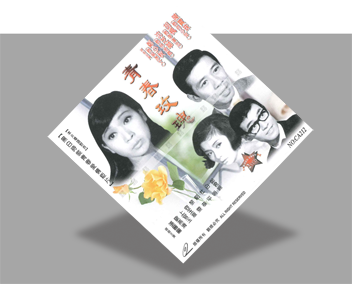 A Rose that Does not Fade (1968)
Around 1968, Wong Jim was involved in making music for several Cantonese films, occasionally creating tunes and lyrics for their theme songs. That was the first time he dabbled in composing Cantonese pop music. Among these songs, there was one entitled 'A Rose that Does not Fade', which came from the film 'The Forsaken Love', starring Connie Chan Po-chu.
Wong Jim remembered he put a lot into creating these songs. However judging from the end result of 'A Rose that Does not Fade', it was not an entirely successful venture. The song was pleasing enough, but rather timid in style and substance. Connie Chan's singing was, quite contrary to her star glamour, mundane to say the least.
Wong Jim was his own best judge. He said, despite his best intentions, he did not then really have it in him to write good Cantonese pop music. Coupled with the downturn in the economic fortune of Cantonese films at that time, few investors and creators (including himself) dared to go near the genre again in the next few years. When he took to making Canto pop again, it was in the 1970s, when Hong Kong society was turned upside down by a conjunction of tumultuous forces.



作曲:黃霑
作詞:黃霑
主唱:陳寶珠

不褪色的玫瑰
不似桃花妖媚
永遠高貴美麗
玉潔冰清放光輝

不褪色的玫瑰
不怕暴風猛雷
永遠高貴美麗
玉潔冰清最明媚

清幽發芬芳
純潔綻蓓蕾
蘊藏著熱愛等待愛人歸

不褪色的玫瑰
經過雨打風吹
更覺高貴美麗
玉潔冰清最明媚
83 / 100