Home
>
Chung Wai Ming
- King of Radio Broadcast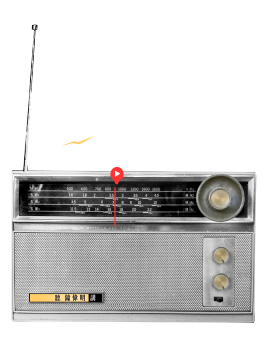 Until the 1970s, the radio was a main source of information and entertainment for this city's people, many of whom worked, ate their meals, played and relaxed while listening to the radio. In an era before television became popular, people did not watch football but listened to football; they did not watch horse racing but listened to horse racing. Political, social and cultural ideas and values, as well as the goings on of everyday life, were communicated through air waves, and radio became a major influence in society. Many types of programmes were aired, and one of the most popular among them was radio drama. For the countless fans of radio drama, the voice of Chung Wai Ming had a special appeal.
Chung Wai Ming was seventeen when he first took part in broadcasting work. That was in 1947. From then onwards, he continued working in different media and in various capacities. In addition to radio dramas, he also wrote and directed programmes, even acting in movies, but when people hear the name of Mr Chung, the majority of them think of radio drama. His performance was outstanding in a wide range of genres: martial art stories, love stories, stories expounding social ethics, detective stories, science fiction, and so forth. With his magnetic voice and insightful interpretation, the stories came alive in the minds of the audience. What he gave to the audience was more than audio pleasure; his greatest gift to them was limitless scope for their imagination to take flight. It was no surprise that he had such a large following, or that he won himself the title of "King of Broadcast". In addition, he often played the role of "good" people -- his deep and strong voice effectively conveyed the righteousness and nobility of the characters. His performance, combined with stories that carried clear cut moral messages, greatly strengthened the educating value of radio drama.
His voice continued to stay with the people of Hong Kong after the 1970s. Indeed, even when he officially retired in 1991, he went on to take part in radio programmes on a contract basis until his death on 27 November 2009.
This exhibition presents Chung Wai Ming's radio work over different periods; in addition, it invites the audience to hear him speak about his childhood, his experience as a broadcaster and his understanding of radio work. It is hoped these memories, so familiar to Hong Kong residents, will be enjoyed by all.
Hong Kong Memory Project. All rights reserved. ©2014