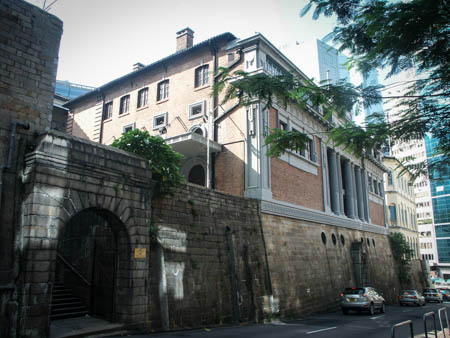 The Former Central Magistracy stood on a high pedestal, reinforcing its majestic air.
Go Next Photo >

[Currently at Photo #1, total 13 Photos]

A red-brick, 3-storey structure, the Former Central Magistracy is set on a 7-metre high granite pedestal. Architecture-wise it adopts the building styles of the Edwardian Era and is rather imposing when gazed upon from Arbuthnot Road. It has undergone little modifications since its completion.
The façade is partitioned into 3 sections both horizontally and vertically. Six Doric columns occupy the central section and span over 2 storeys, exuding a classical Greek aura and demonstrating the solemnity and power of the court. Behind the columns are open verandas; at the column bases are chevron patterns; at the architrave near the column capital carvings of "THE MAGISTRACY" are visible; on the storey above are also open verandas. The garble walls at the top take the form of stairs, at the top of which a flag pole stands; on the garble wall the carvings of 1914 – the date of completion of the building – is visible.